Coconino County SUP hearing was December 4th
I will post minutes of meeting when available
there was no live video
Navajo County SUP hearing will be December 10 @ 9:00am in Holbrook at the County Complex view SUP
contact Navajo County at (928) 524-4100 or
online here
look how wind farms & AZ route 87 would look at night


sPower owned by AES Corporation has not provided any simulations of how horribly this project would impact the many properties directly east of the canyon other than one day time view from Chevelon Retreat where there are more trees in the way

VIEW VIDEO I CAPTURED HERE IN THE PALM SPRINGS AREA SHOWING HOW NIGHT SKY WILL LOOK WITH WIND TURBINES FROM MANY CHEVELON CANYON RANCH AREA PROPERTIES

view of unspoiled view of Chevelon Butte on 99 south of Winslow

HUTCH ROAD AND FOREST ROAD 153 WOULD BE USED FOR ACCESS
VIEW MAP


Coconino County special use permit request for 156 or more massive wind turbines at Chevelon Butte - here is snapshot of agenda - look at item #2 case CUP-19-041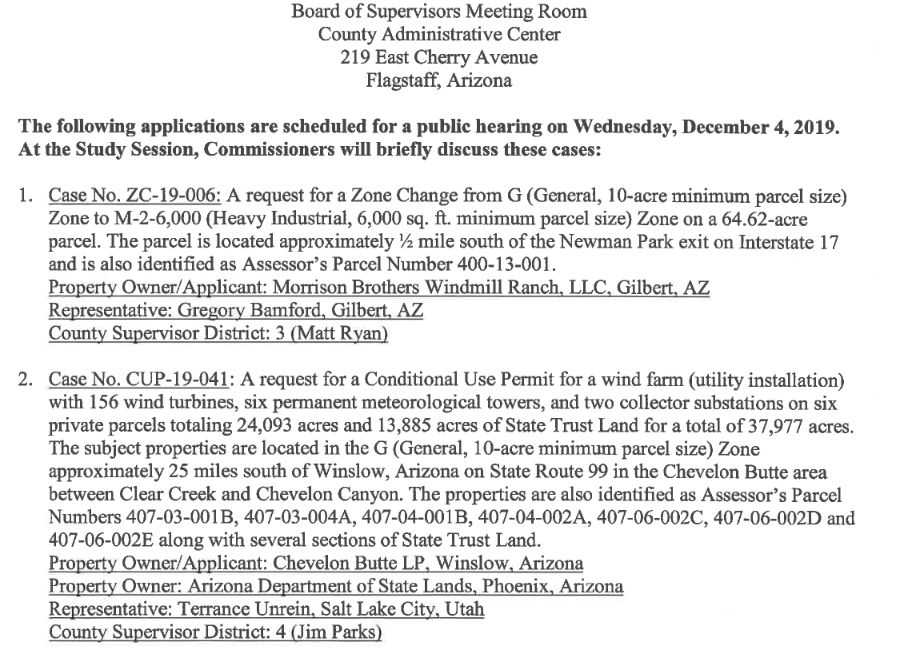 it's interesting to also see in this same agenda that Flagstaff is seeking a Dark Sky Specialist



Coconino County agenda center is located here
Board of Supervisors video stream here

Coconino County parcel viewer map Apache Navajo Counties map shows where the power lines are located already close up of Chevelon Butte to Hutch Road showing State Trust lands

Chevelon Canyon and Mogollon Ranch areas are all affected
view maps
HUTCH ROAD and Route 99 to be used for access in construction phase
NAVAJO COUNTY would have to approve of this special use permit for the project to move ahead
land owners need to tell the county NO
Navajo County Planning & Zoning Commission heard item for special use permit request by sPower on October 17th
it will also be heard by Navajo County Board of Supervisors on December 10th, 9:00am in Holbrook at the County Complex
GEN-TIE environmental impact APPROVED on 10/28/2019
THIS DOES NOT MEAN THE ENTIRE PROJECT WILL BE BUILT YET
Arizona Corporation Commission states that the project meets their guidlines for environmental compatibility and "Page 2Docket No. L-21080A-19-0171-001821The Commission further finds and concludes that in balancing the broad public interest in this2matter:31.5678The Project is in the public interest because it aids the state in meeting the need for an4adequate, economical, and reliable supply of electric power"
This flies in the face of reality wind farms are NOT RELIABLE, NOT ECONOMICAL, and NOT ADEQUATE supplies of electric power. It may "aid" the reliable power grid that is based on reliable fossil fuels or reliable hydro dams or reliable nuclear but very little, just try asking any of these people involved for exact numbers on how much POWER THEY DRAW FROM THE GRID VS. HOW MUCH THEY ADD. Mr. Unrein of sPower would not provide me with even estimates as I requested.
Telling us that they will "aid" is like telling us we can "aid" the traffic control tower at the airport with a drug crazed individual who needs work in assisting the staff which is how wind energy behaves and gets delivered to the grid IF it gets delivered at all, it is chaotic. It's like the controllers can tell that wacky drug crazed energy to go sit in the corner at times, many times to make sure it doesn't ruin the grid as they don't even always "aid" the grid with the power that is generated. These are NOT ECONOMICAL as they depend on taxpayers they cannot function in a free market. THEY ARE WASTES OF OUR ENERGY.
Warren Buffet invests in wind saying that the only reason they work is because of tax payer's subsidies that he would not invest in them without the subsidies as they are not profitable. I'm sure he doesn't have any in his back yard. The rich always plop these on the poorer rural areas making what little they may have now or ever had as they lived in the country peacefully such as the awesome beauty of dark skies be destroyed by their interest in creating energy for their portfolios as they claim it's good for the people when in reality it is only good for those profiting from drawing our energy into their bank accounts.
""We get a tax credit if we build a lot of wind farms. That's the only reason to build them. They don't make sense without the tax credit."
THEY DON'T MAKE SENSE

Navajo County website shows application for special use permit in PDF 329 pages look at the "Proposed Site Access" section on page 15
i will be updating with a review of the entire special use permit application submitted by sPower to Navajo County with comments as I find time
special note: On 9/15/2019 I signed up for email alerts on AZCC docket portal online services I received one notice and THAT WAS ALL. I was not notified of the October 11 and 18 open meeting agenda or the decision by the AZCC email notification system. As I go look at that area of the login portal I see it's asking me to sign up as if I never did. ?????? Being that I made a rather fierce public opposition and have written extensively on this matter I find this interesting that the system suddenly dropped me from being notified. Also I have been waiting on receiving the transcripts of the meeting in September so as to study what was discussed in that meeting. As of 11/7/2019 I have received no response from Coash & Coash. I was under the impression I had time as it was stated that they were looking at another meeting on December 5, suddenly I go check on the AZCC portal and find they made their decision. Was I shut out? No. I made the error of choosing to "filter" as I was interested in receiving new posts in opposition so that's all I got, since there were no additional oppositions posted (though there is a lot of actual opposition) I never received any notices. If you sign up for following dockets be sure to leave this "filter" blank, just enter your email under the receive updates section. I spoke with both Coash & Coash and AZCC regarding these items. Coash & Coash assisted me beautifully and promised to send me the transcripts of the 3 days of hearings at no cost in read only format. I sent letter to address for AZCC? It's confusing on their site as there are two addresses. AZCC was also very helpful in resolving this confusion. Thanks to all of them who assisted. These matters were handled professionally and politely and expediciously. Be sure to just call them if you need assistance as that can save you a lot of time, frustration, and it can provide quick resolutions of your concerns and don't wait around especially with Navajo and Coconino special use permit hearings and matters. Here are the contacts exactly as stated on website at azcc.gov. Docket control is AZCC. They only have transcripts that they host. The September meetings were hosted by Attorney General and Coash & Coash maintains those. It's a bit confusing. I hope this brings some clarity. Here you will see the contacts, below those is my PREFERRED VERSION which I have suggested they consider some possible changes. Keep in mind AZCC handles all sorts of grid matters and proposals for new lines and such so you may want to look at projects near you.

---
For transcripts dated 1/1/2014 and later:

Pursuant to the contract between
the State of Arizona and Coash & Coash
transcripts are not available for viewing on the internet.
For meetings hosted by AZCC to view transcripts in person please contact Docket Control at:
Arizona Corporation Commission
1200 W. Washington St., Room #108
Phoenix, AZ 85257
Phone: (602) 542-3477

For meetings hosted by others such as Attorney General to view, purchase, or have a copy of a transcript sent to you email please contact Coash & Coash, Inc.

transcripts MAY be provided at no cost but check with them on conditions - contact them at:
Coash & Coash, Inc.
1802 N. 7th St
Phoenix, AZ 85006
Phone: (602) 258-1440 or email: mh@coashandcoash.com
wind energy subsidies are ending soon and they are scrambling to get theirs locked in for decades of your money flowing to them in what we could call a windfall of gobs of your energy going to the rich investors, developers, and all involved, money that should be going to build homes for people on the streets and roads and bridges to somewhere

does Arizona have a bill like the one proposed in New York that mandates public be well notified in advance and robust public discussion proceed well in advance before any such electrical generation project could be approved whereas 51% of voters in affected district giving approval by vote would be required?

this page intentionally left free of wind turbine blight